Cube Controls GT Sport Sim Racing Steering Wheel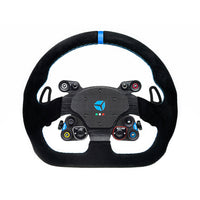 Cube Controls GT Sport Sim Racing Steering Wheel
Boost your sim racing skills with the elegant GT Sport steering wheel.
Designed for sim racers looking for a more balanced solution without compromising quality details.
Adjustable Magnetic paddles. Updated look with custom Cube Controls steering rim. 100% carbon front plate. Featuring a lightweight version of both knobs and joystick. Rock-solid electronics.
No clutches. The wireless version is available (compatible with Simucube only).
Specs:
Built with steering wheel, 320mm diameter
Carbon fiber front plate
5 standard momentary buttons
No backlit buttons
45° back USB Connector
Two on/off toggle switches with status led
2 front rotary encoders
2 thumb rotary encoders
Multi-directional joystick with integrated encoder
Zero play short throw custom-designed magnetic switchless paddle shifters in aluminum and carbon
All aluminum parts are CNC machined and anodized
Wheel hub compatible with all formula style quick release hubs (3 bolts, 1-inch and 70mm PCD)
The proprietary custom-made tactile button assembly
Weight: 1510gr
VR friendly
Compatible with Thrustmaster, Logitech, AccuForce, Fanatec and SimuCube 1&2