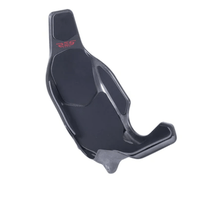 The seat is laminated completely by hand.
The internal construction is developed using materials
and solutions of aeronautical derivation to maximize
performance and contain as much weight as possible.
In the heart of the seat there are reinforcements in T1000
and T1100 fiber, the same fiber that is used in the structures
and components of the Formula 1 single-seaters,
as well as in high-level helmets.
Pad are made in closed cell neoprene, 10mm thick, hot coupled
with microfiber mesh fabric
This product will be available in several thicknesses
to guarantee the customization of the fit inside the seat.